At The Bridge Pilates Studio we have a selection of classes and courses both on the Mat and on the Full equipment.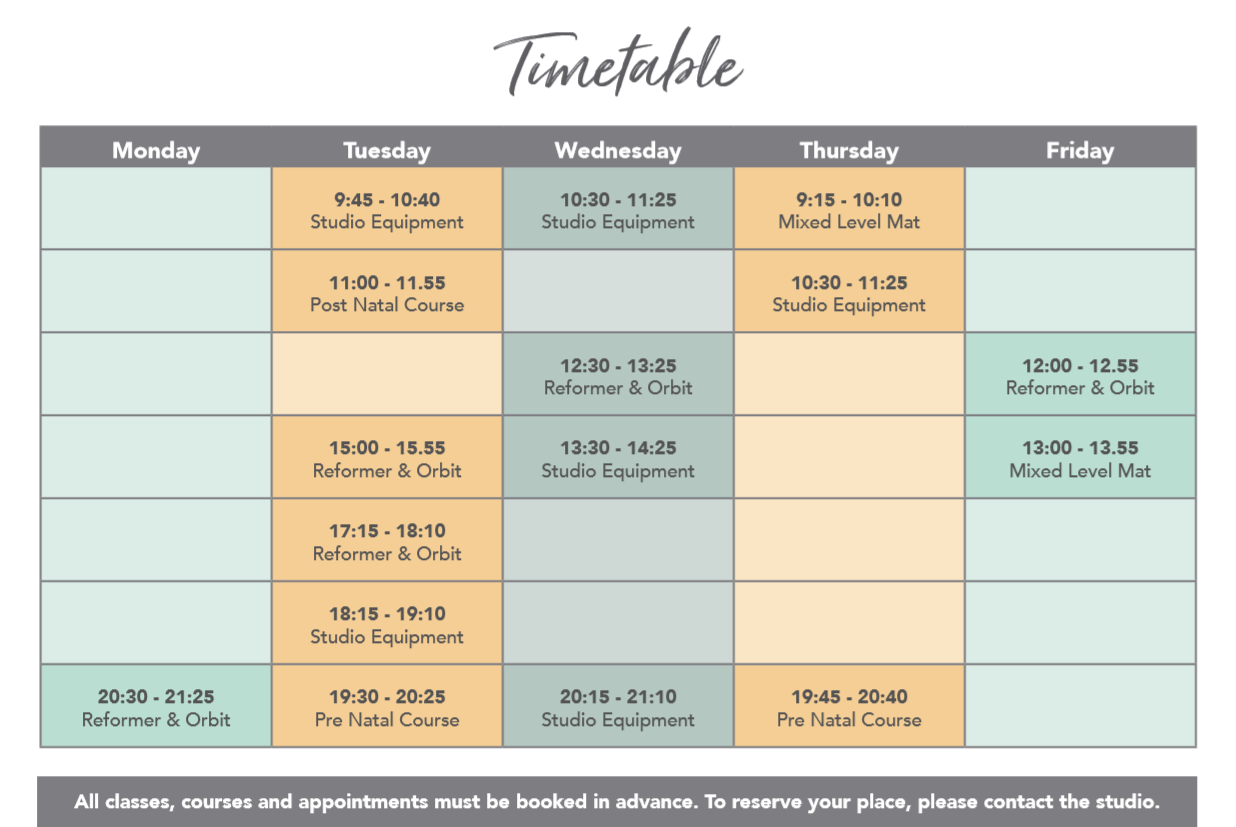 The Bridge Pilates Studio offers an array of Pilates classes suitable for those looking to relax and unwind, recover from injury, build strength or for a form of exercise to compliment and support their current fitness regime. Pilates helps create strength, flexibility and balance within movement both in the studio and for everyday life.
Private Appointments
Private appointments are available by request Monday – Friday at the studio. These sessions are a great way to work on your own goals and receive personalised Pilates tailored specifically to you. 1-2-1s, 2-2-1s and private classes are available on the Full Pilates Equipment, Mat and Reformer Equipment.
Studio Equipment Classes
Studio Equipment Classes provide an opportunity to use the full Pilates equipment within a group setting. The equipment can add challenges and provide assistance with more of the tricky movements that the mat repertoire can't achieve alone. Using a mixture of mat and equipment based exercises, develop and progress towards personal goals and improve your movement vocabulary.
Reformer & Orbit Classes
The Reformer uses spring-controlled resistance to enhance your Pilates workout, whilst the Orbit challenges stability and balance in all directions. These great pieces of equipment provide quicker results and more challenges to the Pilates repertoire.
To attend a Studio Equipment or Reformer & Orbit class you must have attended an initial 1-2-1 consultation and a follow up 1-2-1 on the equipment or an introductory course. Introductory packages are available for the Studio Equipment and Reformer & Orbit classes.
Pre Natal Pilates Courses
A six-week stretch, strengthen and relaxation course for expectant mothers. These sessions are a great opportunity to reinforce good alignment and breathing, stay mobile and build strength in a safe and friendly Pilates environment.
Post Natal Pilates Courses
A weekly mat-based course for mums from 6 weeks postpartum. This course takes a full body approach to easing back in to exercising following the birth of your baby. Re-find your connection to your pelvic floor and allow your abdominals to gradually draw back together through a focus on improving posture and alignment and good movement habits.
Mixed Level Mat Classes
Suitable for all levels including beginners and those returning to Pilates after a break. These classes focus on the mat repertoire and exercises that can be adapted using the small equipment and props. We will work on developing your strength, stability, and coordination to create functional movement habits and balanced, improved posture.