Pilatesathon – Sunday 26 November 7am-7pm 
UPDATE!!!
Raising Awareness, Raising Funds and Raising Spirits with Pilates!
Join us on Sunday 26th November for a Pilatesathon to raise money for Stroke Association, Mind and WomenCentre Halifax.
Classes will be running from 7am, every hour until 7pm, with a host of different Pilates instructors and styles of classes throughout the day. Class information is now available! 
Here's the timetable for the day…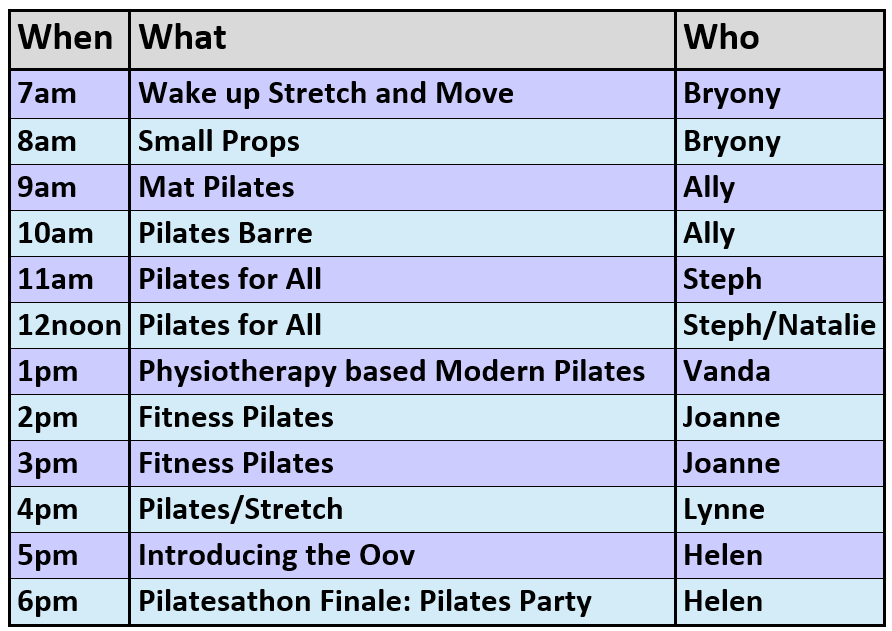 If you'd like to join us for a specific time slot you can book in advance in three ways:
Call 07963805951
There are several different ways you can get involved: 
Sponsor Me! 
I am planning on teaching or participating in all TWELVE sessions throughout the day. You can sponsor me, and give me that extra BOOST to keep on going throughout the day!
Join Me!
Instead of sponsoring me, why not support the day by coming and joining in for an hour, two or more!
For every hour that you join in we request a  £5 donation (for up to four classes, after that it's free, or you can donate as you feel appropriate for the rest of the day!). You can stay for consecutive classes or come and go throughout the day.
Get Sponsors for You! 
If you're joining in on the day, why not set up your own sponsorship?
You could come in fancy dress, complete the 12 hours or maybe even attending one of the hours would be a great achievement for you! Ask your friends and family to sponsor you to come along, contact me to be added to my team of fundraisers online, or for a printed sponsorship form for the event.
Registering your interest
Booking isn't essential, but to help us get an idea of how many mats and props to bring please register your interest by emailing me: bryony@thebridgepilatesstudio.co.uk